28th April 2018
The week two has come to a pleasant end with the great news to BKIS community of Loice Jobando achievement of securing scholarship to join the African Leadership Academy in September! African Leadership Academy (ALA) seeks to enrol the most outstanding young leaders from across Africa and around the world. ALA is not only looking for young people who are smart and excel in the academic environment, they are looking for young people with the potential to lead and impact the world around them through their courage, initiative and innovation. It is indeed a great achievement for Loice (Our Deputy President to the Students Council) for being the first student from BKIS to get this admission. ALA's selection process is extremely competitive and for her to make it, we are all proud of her.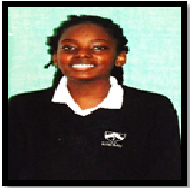 Toyota Dream Car Art Competition
BKIS has done it again! The Under 8 Category in this competition had many participants from all over Kenya expressing the wishes to Toyota for their dream cars. From the results, it was like a reserved category for Braeburn Kisumu International School. Dhara S., Bashar Y. and Malaika F. won   Gold, Silver and Bronze respectively. Congratulations to our students. The Toyota Kenya representatives will be organizing to present the awards to our winners in the course of the term.
Scouts Patrol Leaders Camp at Braeburn Imani International School Report.
The scouts departed BKIS at exactly 8:30am for Nairobi. The journey to Nairobi was excellent as the weather was quite favourable. We made one stop at West Side Mall in Nakuru for a short break where the scouts were able to get their lunch from KFC before embarking on the journey to Nairobi and arrived at around 5:30 pm. We unfortunately missed out on the opening ceremony which was set to kick off at around 4pm. The scouts indulged themselves with refreshments provided by the host and later on managed to put up their tents in time for supper as well as the evening activities.
 There was a heavy down pour almost every evening that forced us to abandon our tents for the classrooms throughout our stay at camp. The BKIS scouts lived up to the values and expectations and no disciplinary cases were reported. The scouts received training on various subject areas including but not limited to First Aid and Badge System. Medical and dietary considerations were well factored and considered during our stay at camp.
 We would like to appreciate the team spirit and courage exhibited by the scouts even in the face of adversity.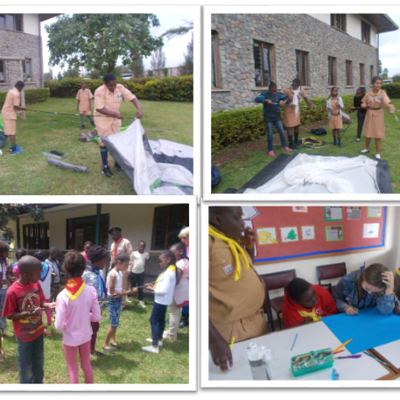 YEAR 9 IGCSE Subject Options
After a successful week of tests to mark the end of KS3 work, our year 9s are now ready to start the CIE syllabus. The subject options have been arrived at after consultation with the students. These option blocks will be shared with their parents to help in the final choices as we draw a new time table for them. We wish them well in their preparation for IGCSE
 Inter Braeburn Swimming Gala
BKIS has sent a team of 25 swimmers to take part in this annual event tomorrow at BGR. For most of them, it is a first time experience. Mr.Azenga and Ms. Irene have worked with them to build their confidence and we are hopeful that as usual, they will do their best. A big thank you to the parents who have offered to accompany and cheer them up during the Gala.
Family Picnic
As calendared, this event will be held on the 5th May 2018 from 1 pm. Yesterday, we had a successful ROBS meeting to plan for this and exciting activities are lined up .Thank you all for those who managed to attend the meeting and we are certain that with the great TEAMWORK, this coming picnic will simply be the best. The minutes of the meeting   will be shared out early next week detailing the specific activities of the day.